"

Jason Gisser sings for the souls of all of us. The passion comes through at full speed and completely dissolves any prior concerns or worries you may have had."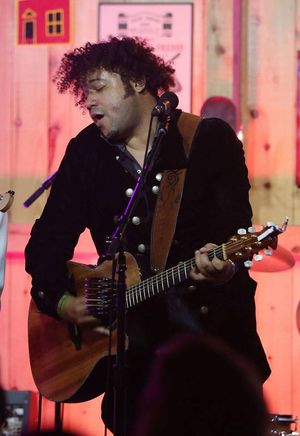 Jason Gisser
Jason Gisser is an acoustic singer songwriter who performs throughout New York, New Jersey, and Connecticut. Weather he is playing covers or originals, he plays it in a way people in the room can feel it. 
As a cover musician 
       Jason plays with soul, power, conviction and charisma. He understands when he is playing covers in a bar, he is the soundtrack to the evening. He reads the room and can play covers from classic rock bands like Pink Floyd, Led Zeppelin, Jimi Hendrix, The Rolling Stones, Janis Joplin ect... to harder rock like, Alice in Chains, Soundgarden, Pearl Jam, Stone Temple Pilots ect...  to the funkier more dance oriented side of music like Prince, Wild Cherry, Afroman, Everlast, Blackstreet, Sublime ect... to southern rock that warms the soul like The Allman Brothers, Lynyrd Skynyrd, Steve Miller Band, and Marshall Tucker to soul music that can melt the soul like Marvin Gaye, Lenny Kravitz, Macy Gray ect... He has also been know to improvise songs about things that happen during the night or people in the audience. no matter what he's playing he keeps the volume at a level where people can comfortably hear the music and feel it, yet still carry on a conversation without having to scream. However he can turn it up to get a place rocking at the venues request.   
As an original artist 
       When Jason is playing his original music in a venue he can command a room with his original brand of funky acoustic soul rock. He makes sure the audience feels the music. He has played his originals in venues such as, Daryl's House, The Paramount Theater, The Towne Crier, Mexicali Live, Live at The Falcon, The Chance Theater and many other large venues and has opened for national acts such as, Three Dog Night, Grand Funk Railroad, Lukas Nelson & The Promise of the Real, Hoobastank, ect... Jason has over 3 albums worth of material that he has written. He pulls deep from love, hate depression, moments in life that help define us. His music is very relate able on a personal level and he leaves audience wanting more. 
Currently 
       Jason is currently working on his all acoustic album. Slated to be done by Spring of 2018. it will feature songs from previous albums as well as new music. Jason is also playing live approximately 3 -4 times a week as well as the host of The Falcon Underground Songwriter Sessions, and is a member of Musicians on Call, where he plays in room performances in hospitals for patients.
Press Photos